West Boca Moose Lodge 204
Chapter 2273
131 N Powerline Rd
Deerfield Beach, Fl. 33442​​​
954-​425-0710



What is the Moose Legion?
The Moose Legion is the 2nd degree of the Loyal Order of Moose. The Supreme Council authorized the creation of the Moose Legion of the Moose Fraternity, known as the Degree of Service in 1913. Originally called the Mooseheart Legion of the World, this degree is comprised of thousands of men throughout the fraternity who desire to not only have fun, but provide greater service to the moose fraternity. Members of the Moose Legion help support Mooseheart, Moosehaven, Camp Ross and many other projects within the Fraternity. Members of the Moose Legion have the privledge of wearing the official maroon moose legion blazer and striped tie with insignia. As a member of the degree of service, you are one step closer towards the Fellowship and Pilgrim degrees; which come only in recognition of distinguished service to the Order.
Objectives of the Moose Legion
-Bring together qualified members of the Loyal Order of Moose who desire to make further contributions to the humanitarian objectives of our Order, thus forming a strong foundation for advancement to the Fellowship and Pilgrim Degrees.
- Foster and promote the charitable efforts and fraternal programs of the Order, particularly those that benefit the children at Mooseheart and the seniors at Moosehaven.
- Exemplify the principles of Faith, Hope, Charity, and Loyalty.
- Encourage members to conduct themselves in a manner as would be expected of a fraternal leader.
HOW DO I JOIN THE MOOSE LEGION?

Simply complete and sign the application and present it, along with the required fee and dues, to any Moose Legionnaire. He will endorse your application and start the membership process. The Moose Legion Secretary will verify your eligibility and process your application. You will then be notified as to the date, time and location of the next Moose Legion conferral
Congratulations to SF 46 Moose Legion Ritual Team for a 2nd Place Team Finish at Moose International Competition in Las Vegas, Nevada - June 29, 2019


​​President.........Scott Cushing
Orator..............Stephen Gladstone
Faith................James Esposito
Hope​................Neil Reichhart
Charity.............Alex Ferrer-Wurst
Loyalty​​​​​.............Eddie McGurn
Class...............John Wurst-Ferrer
Class​​...............Rick Shockley

The dates of the next

​Moose Legion Conferral are September 4 & 5 at West Boca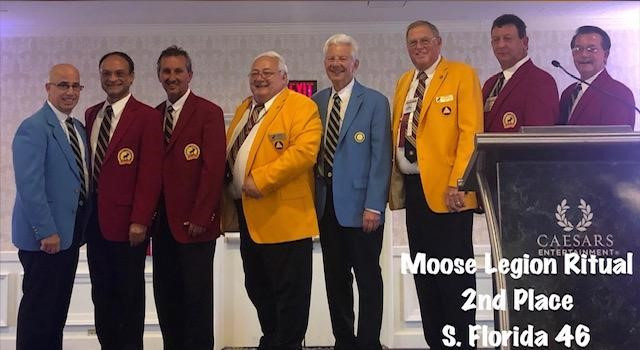 SPONSORS FOR OUR MOOSE LEGION GOLF TOURNAMENT
​HELD ON DECEMBER 7, 2020